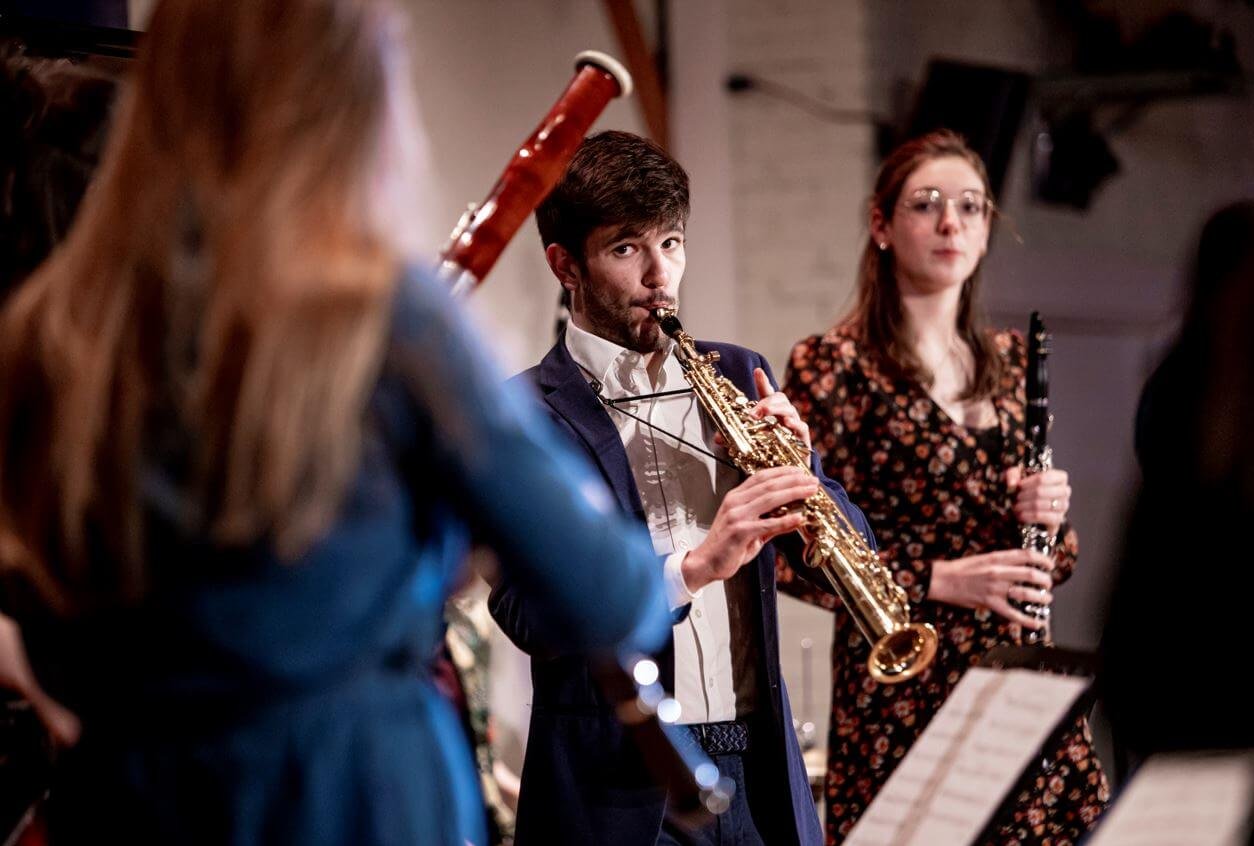 Thanks to the support of funds and sponsors, we can continue the extensive learning programme for talented young musicians.

Established several years ago, the jongNBE is an ensemble comprised of the best Dutch and foreign students enrolled at music convervatories in the Netherlands who have the opportunity to be part of the young Netherlands Wind Ensemble, known as 'jongNBE', for a 2-year period. The ensemble, which includes 10 musicians (flute, hobo, clarinet, bassoon, french horn, trumpet, saxophone, trombone/bass trombone, percussion and double bass/bass), is coached by experienced musicians from the NBE. Playing in the jongNBE offers young musicians a fantastic learning path in ensemble playing, programming and presentation. The jongNBE is the breeding ground of the Nederlands Blazers Ensemble.
The jongNBE accompanies young composers during the showcases of the young composers' competition "On the way to the New Year's Concert" and plays its own programmes throughout the Netherlands. Amongst others, the jongNBE performed during the Grachtenfestival, in Ramses' Night at the DeLaMar Theatre, at Vroege Vogels in Park de Hoge Veluwe, during the lunch concerts in Het Concertgebouw, played at the Uitmarkt, at Opium on NPO Radio4, during the Oranjewoud Festival, at the Hockey World Cup, at the Cello Biennale and in the Holland Opera productions The Day After and STYX at Fort Rijnauwen.
jongNBE 2022-2023
Anna May van der Feen flute | Maud Busschers oboe | Jaime Pena Martinez clarinet | Maria Losada Burgo bassoon | Lisa Schreiber saxophone | Christian Fisalli french horn | Lenart Zih trumpet | Joan Gimeno trombone | Anneke Attema double bass | Mark Boessenkool percussion